Welcome to the Hall Gentlemen
For some, yesterday was one of the biggest days of the sporting year, if not the biggest. It was the day that 2 of the classiest guys in baseball, much less sports were inducted into the
Baseball Hall of Fame
in
Cooperstown
NY. A record crowd of over 75,000 descended upon this quaint little town in Central New York to see one of the few things that baseball has done right lately. Forgotten for an afternoon were Michael Vick, Tim Donaghy, Barry Bonds and everything else that is wrong with the sporting world. And while this might be more directed towards Baseball fans, it should be impressive to for any sports fan to see the 53 hall of famers on stage behind the newest inductee's. It should be impressive that 2 men who spent their long and entire careers with one team and are easily not only the best guys of their generation but of all time reach the pinnacle of any sporting career. I know I was impressed. For the first time it hit me. These are the guys I grew up watching. These are the guys I pretended to be when my friends and I grabbed our gloves and went off to play baseball. These were the guys who helped shape and define my love for the game of baseball.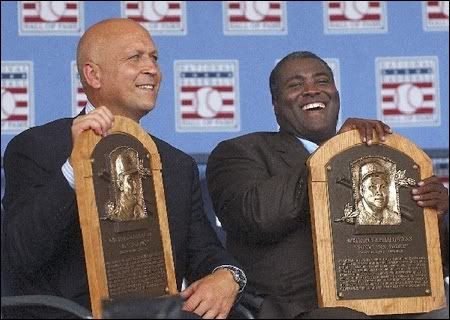 Being on the East Coast, I never got to see
Tony Gwynn
play as much as I would have liked. Luckily Baseball Tonight and Sportscenter helped bring his game to the masses, but there is no doubt in my mind that had he played for the Mets, Yankees, Tigers, Cardinals, Braves, Red Sox etc. his legend would be even greater. We're not going to find a man more dedicated to his craft. A player who was never complacent and was always learning, always trying to improve right up until the day he retired. He is a man who is as big a hit in the community as he was on the field. And he was a guy who never made headlines for the wrong reasons. A great player and a great man I hate to cut things short on Big T, but I need to get to Cal as he has always been one of my favorite players.
Every baseball fan around owes
Cal Ripken
. No, we don't owe him money, a first born kid, we owe him our respect and our admiration. I grew up watching Cal Ripken Jr. I was fortunate enough to actually see him play when I was a little kid and he spent one year as a Rochester
Redwings
. Of course then I had no idea what I was watching, but now that I know its something I can always look back on and be thankful I did see it. Because the Wings were Baltimore's top farm Team at the time, I grew up watching the Orioles, even though I was a Mets fan. I grew up watching Cal play. I remember hoping that the Game of the Week would feature the Orioles every week. I remember vaguely the World Series winning team, the pain of the late 80's team, and the resurgence of the 90's teams. As a baseball fan, I also remember the devastating strike in 1994 and I remember everything that Cal Ripken did to get baseball back in the good graces of the fans. His chase and eventual record breaking streak in 1995 of Lou Gehrig's consecutive games streak is legendary in its own right and it's timing helped to pull baseball from the strike burned memories of the fans. And whether it was Cal taking a lap around the entire stadium shaking hands with fans or the fact he would never turn down an autograph request, he did more than anyone to bring it back. I don't think I could name one player right now that would come out and sign autographs for 2 or 3 hours after playing a 3 hour baseball game at one of the most demanding positions. He did not want to disappoint the fans...and Cal never did. Cal was about the game. He understood the game existed because of the fans and his HOF induction speech was the same way. Cal didn't talk much about himself. Instead he made his induction speech, on his day into the HOF, about the game, about everyone else. From his dad, to his brother, to his wife and kids and mom, to his teammates, to the fans especially Oriole Fans he made it about them. He talked about how great baseball is and he talked about teaching it to today's youth. He talked about how every mistake he might have made he learned from and never repeated. He talked about being a role model whether players like it or not. He talked about baseball being his job so playing everyday was just what he did whether he was hurting or not. His sort of tribute to the fans of the game who work hard all their lives. With his speech he gave fans like me one more glimpse at being a kid watching baseball, and he also gave all fans hope that players do exist that care more about the game and fans than about the paycheck. When my kids are growing up playing baseball and beating up those that play Soccer, they will know all about Cal Ripken. Who he was, what he stood for, everything he was and is. The biggest injustice we could do it to forget about Cal and to not keep his memory flowing always.
I cannot thank Cal, Tony, the HOF and baseball in general for giving me as a baseball fan one pure day. Like I said, yesterday wasn't steroids and tainted records. Allegations and conspiracy's. It was about the games greatest players being honored, inducted, and remembered. I'll be down to see Cal's plaque in Cooperstown real soon.